I was so busy with the holiday yesterday that I didn't get to write up my WiP Wednesday post. Then I was catching up on my blog reading and I saw that Lee at
Freshly Pieced
left the linky open for two days! Hurray! Jess from
SewCraftyJess
is the guest blogger and she has some really great projects. I feel like I did so much this week but have nothing to show for it. My sweet hubby says I'm in the grunt work stages where there's not so much to show for it but a lot of work. Then I remembered a lot of other things I've done since the last post. I guess this week has just taken so long to pass that I forgot about all I did. Here are a few representative samples of my week...
First off I finished the last of the blocks for the Skill Builder Sampler!! I just loved doing this and I learned so much! See the full finish post here.
I tried FMQing for the first time, with the wrong foot, and a lot of laughing. I did one 12" mini and had so much fun even if it isn't perfect. Read all about my acrobatic attempts at Free-motion quilting here.
Look! My hubby is helping! Isn't he amazing? I sewed 112 squares together to make 56 that needed to be cut in half to form 112 HST. (It's all for this quilt for my mother). I was not looking forward to making it through that pile when my hubby came into my craft room and I enlisted his help. He was a little leery at first but then I told him all he had to do was cut on the marked line and he probably cut about as many as I did.
I love the look of trimmed down HST blocks so I always make them a smidgen big and cut them down. This is tedious when there are 112 to do but I'm persevering and have 61 done so far. I keep telling myself it will be so worth it when the quilt turns out. By the way this is Papillon by 3 Sisters for Moda if you were interested.
I found another excuse to buy more cute fabric! I joined the Fusion Blanket Crochet Along that began this week. I'm so excited for this project! Basically you sew the charm squares right sides together, flip them right side out, then crochet around the outsides, and finally crochet all your blocks together. It's the best of both worlds! Here's the button...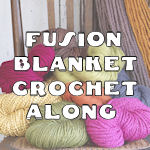 I also whipped up a few more crochet hats. I wanted a new embellishment for the girl hats but I wasn't loving a lot of the flowers because they just seemed to look huge. I love the bow though and I wrote the pattern myself. It's pretty simple and was so much fun!
I'm also having fun keeping up with the
Let's Get Acquainted Blog hop
. There is a great giveaway this week for two quilt patterns. There are currently under 30 entries and three winners so your chances are great! All you have to do is click on the link above and leave a comment on the post. There were some fabulous post by fellow hoppers, go check them out here...
Click
here
to find links to the awesome tutorials from the last six weeks and to see some fantastic events currently being hosted by blog hoppers.
I'm linking up with
Freshly Pieced
for
WiP Wednesday
. Thanks for stopping by!